Jason Salavon: Rainbow Aggregator
Museum of Contemporary Art, Cleveland - 2017-2018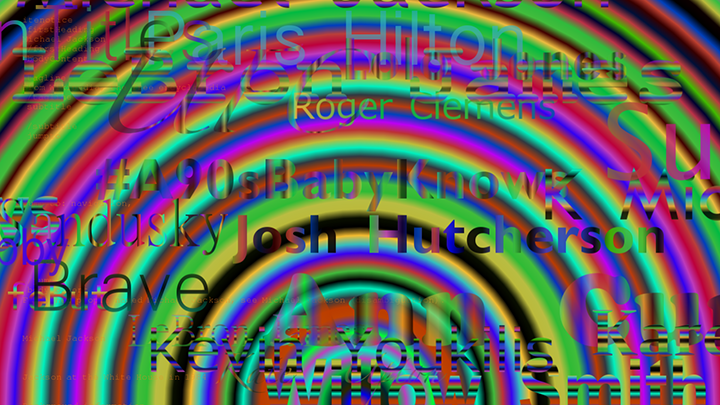 Jason Salavon (1970, Indiana) is a Chicago-based artist who designs computer programs and software that reconfigures data from the Internet such as search results, news headlines, and social media trends. Through photographic prints, digital animations, and real-time software installations, Salavon presents new ways of seeing and understanding the flow and construction of information in contemporary culture.
Rainbow Aggregator is a continuous real-time representation of trending information and topics sourced from Twitter and Google. The digital animation is created through custom-made software that translates trending topics into an abstract composition of vibrant colors and ever-changing streams of text. On random occasions, sections of the web-code connected to each trending word or phrase appear throughout the digital animation.
Salavon's digital animation highlights the terms and concepts that are driving digital activity now, in many cases highlighting the invisible or abstract transactions that frame our world. This also is a key concern among works on display in A Poet*hical Wager, a group exhibition on view in the Mueller Family Gallery that explores the relationship between abstraction and ethics in the work of eleven international artists.
Jason Salavon
Rainbow Aggregator, 2013
Computer program, Internet connection, computer
Dimensions variable
Collection of Carl & Marilynn Thoma